4* Luxury Self-Catering Apartments, Ballyshannon, Co. Donegal, Ireland
Welcome to Assaroe Falls, a superb collection of 4* self-catering apartments located in the picturesque town of Ballyshannon, Co. Donegal. With breath-taking views of the River Erne and Donegal Bay, Assaroe Falls is the ideal base to explore the natural beauty of the surrounding areas.
Lauded by our guests, the apartments are exquisitely designed, decorated and furnished, coming fully equipped to cater for every need throughout your stay.
Assaroe Falls is an ideal location to rest your head and soothe your soul, and for the more adventurous, there is an abundance of activities available locally, from canoeing to golf.
Assaroe Falls – Exclusively for You! The ideal location for your perfect break away…
The Story of Assaroe Falls
The River Erne gives the town of Ballyshannon much of its character. One of the earliest stories relating to the area tells of how the Assaroe waterfall got its name.
Some two thousand years ago the kingship of Ireland was given to three princes, the sons of three brothers, to be held for seven years each in rotation. One of them was called Aodh Ruadh, a name that became very popular in the history of Donegal. Towards the end of his third period of kingship, when he was an old man, he fell into the river and drowned. He was buried on the hill overlooking the waterfall, and from then on it was known as Eas Aoidh Ruadh (the waterfall of Red Hugh).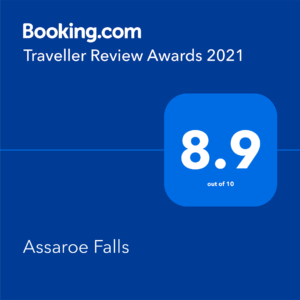 Reservations